News
Hi Minnesota Bass Anglers
News Update ———4/20/2014
Joe's Sporting Goods is offering a discount to all members of Denny's Super 30 for 2014. When checking out, just tell the cashier that you are a member of Denny's and you will get up to a 20% discount. See the flyer on the right sidebar for more details. Also, Joe has many free seminars for you to attend.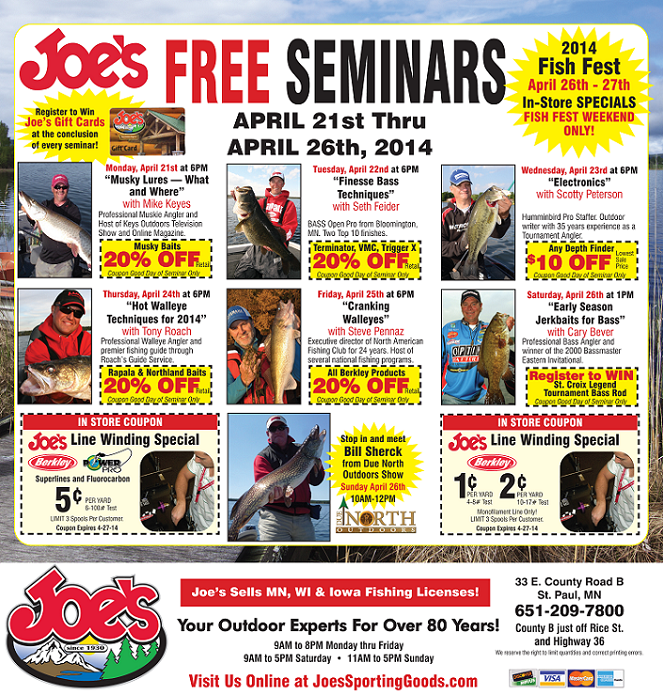 The 2014 season is coming fast. The first Super 30 tournament is just over a month away when we start on the Mississippi River, pools 4 & 5, on May 17th. We will be going out of the Alma Marina which is just north of Alma, WI. A Minnesota fishing license is all you need or Wisconsin if you have one.
SUPER 30 MINNESOTA
As of this email I have 11 paid entries and a firm commitment from 6 other teams. A couple more team entries and I'll be able to close the tournaments to teams that are not fishing at least four tournaments. If you are on the fence waiting for me to close these tournaments to just teams fishing the "circuit" now is the time to get an entry in as I am 99% sure that this will happen. See the exception for the River tournament below.
Mississippi River tournament – OPEN TO ALL ANGLERS
I am going to open the Mississippi River tournament to anyone that wants to fish it. There are several teams that are fishing all the other Minnesota tournaments but are not fishing this one. By opening this to anyone we will have a better field / pay off and it will add money to the Feldmann Nissan Team of the Year Pot. All teams fishing this tournament must pay the $100 team of the year fee, with their entry.
SUPER 30 MINNETONKA
We are half way to a full field of 50 teams which is about where we are at this time of year. Now that the snow is almost gone and guys can think about soft water fishing I'm sure the entries will come in a little faster. I am confident that by the time of the first tournament on Tuesday May 27th there will be 50 teams at Lord Fletcher's to get the Minnetonka tournaments underway.
If you have any questions about the tournaments give me a call or email. See you soon! Get those entries in and your boats and tackle ready— spring is here.
Ease off for Mississippi River – May 17th
Ease off at 6:30 am – from the Alam Marina just north of the city. Weigh-in at the same location at 3:30 pm.
If you have a boat to sell – list it now – FREE. It will stay on Denny's Super 30 until sold. On May 1st we will start charging a fee for you to list your boat. In case you haven't noticed there have been 3 boats sold off our web site already. Take advantage now or later, we will get your boat looked at.
Entries have been coming in for both series and I will have an update in the near future. April is just around the corner and then the tournament season starts in May. Make a decision to fish the Denny Super 30′s; we would love to have you fishing with us in 2014. Good people, good lakes, good fun and what I think is good pay-offs.
Super 30 Minnetonka Entry Form
Super 30 Minnesota Entry Form
If you have not received an email from me in the past couple of weeks, it is likely I do not have your current email address. If this is the case, email denny30@live.com and we will get you on the Super 30 mailing list.
I have made a change in the Super 30 Minnesota schedule. There have been several requests to make it possible for teams to fish the NABC tournaments and not have to miss a Super 30 tournament.
In an effort to get as many teams as possible for the Minnesota Super 30, I have changed the North Long Lake tournament date. The new date is one week earlier - North Long Lake will be on August 16th. I hope this doesn't alter anyone's plans. I don't like to make changes but we have to submit our permit requests prior to knowing what other circuits are doing. Thank you in advance for your cooperation with this change.
We have four teams that have confirmed entry to the Minnesota Super 30 already – a record number for January. Also several teams that have called to let me know they are making plans to fish this series. Let's get this to 20 or more teams and have a great season.
2013 Updates
The 2014 Super 30 Minnetonka and 2014 Super 30 Minnesota pages have been created with new information about payouts, rules, and more. Take a look so you have an idea of what to expect going forward to 2014.
With the 2013 season wrapping up, check out the updated Top 100 bass tournament winners in the history of Denny's Super 30. We have also added the Top 50 2013 Bass Tournament Money Winners.
Results are in for the Sauk Lake bass tournament on September 21st, which was the last Super 30 tournament of 2013. Finalized results are in for the 2013 Super 30 Minnesota Team of the Year sponsored by Feldmann Imports.
Wednesday Night September 11th 2013 Results are posted. It is the last Wednesday Night Bassin' of 2013. There is one final tournament left for 2013 – September 21st, 2013 Super 30 Minnesota event at Sauk Lake.
Minnetonka Super 30 – September 9th 2013
It was an exciting finish to the season with the Team of the Year on the line. Ryan and Corey Brant were 5 points behind the leaders Seth Feider and John Figi heading out for the final tournament of the season. There were 7 places in the money with several teams that had an opportunity to make a move. Ryan and Corey made the biggest with a 30# bag that was enough to give them first place for the day, and enough points to tie Seth and John for the 2013 Marketing Architect's Team of the Year title. The two teams split the 1st and 2nd place money and took home $1,600.00 each along with trophies. Cody Zdrazil and Dusty Mahn took second for the day with 29-3 and finished 4th in the Team of the Year. We had three teams getting into the money for the first time this year – Brett Morgan & Eric Zrust in 5th place (also big bass), Aaron McGraw & Pete Przepiora in 7th and Craig Zrust & Steve Rowe (sub for Tom Zrust) in 8th.
Thanks to all the anglers for another great season. See you next season!
Special offer for Winterizing:
Special offer for Denny's Super 30 anglers!
Winterizing and indoor storage $400.00 per boat
Note: Anglers will have to drop off boat at Larry's Marine Services.
For more information, call Larry at 952-472-5238
Winterizing includes: Engine fogging, lower unit check, stabilizing gas, anti-freeze for live-wells
-Denny
The boat draw is posted for the final Super 30 Minnetonka bass tournament of the year. It will be on September 9th, 2013. Plan on staying a few minutes after as final Team of the Year point totals are calculated and paid out to the winners. Also of note is the Ease Off is at 8:00am and weigh-in at 4:00pm.
Results are in for the Wednesday Night Bassin' on August 28th, 2013. Last Wednesday Night Bassin' event of 2013 is on September 11th.
The Super 30 Bass Tournaments have now passed the $2 million dollar mark in pay outs! With all the tournaments for 2013, up through the recent Minnewaska tournament, our total payout since the first tournament in 1989 is now at: $2,013,752.00
Just posted - Super 30 Minnesota Lake Minnewaska tournament results from 8-24-2013. It is the second-to-last Super 30 Minnesota event, with Sauk Lake in September being the last. Here are the current Super 30 Minnesota standings heading into the last event.
The tournament results are up for the 8-19-2013 Super 30 Minnetonka event. One more Super 30 Minnetonka event to determine the 2013 Marketing Architects Team of the Year (standings are updated as of the recent Super 30). Best of luck to all anglers in what has been another great season.
Bass tournament results are now in for the August 14th Wednesday Night Bassin'.
Another Super 30 Minnesota tournament is wrapped up - Super 30 MN Leech Lake Bass Tournament Results. And with it, so are the Feldmann Imports Super 30 Minnesota Team of the Year Standings.
Results are in for the 7-31-2013 Wednesday Night Bassin' tournament.
The Super 30 Minnesota Leech Lake Ease Off is up. There are a couple very important news items related to this tournament. #1. Limit is 8 Largemouth Bass - No Smallmouth Bass. Also, boats may not go past the following boundaries: Co. Rd. 38 Bridges on Kabekona Bay and Kabekona River, State 371 Bridge on the Steamboat River, County 8 Bridge on the Boy River
We will have openings and will take entries Saturday; bring filled out entry form and cash.
Results are in for Wednesday Night Bassin July 24th 2013. Next event is the Denny Super 30 Minnesota Leech Lake Tournament on August 3rd 2013. As a reminder, DNR permits DO NOT allow smallmouth bass to be weighed on Leech Lake. It will be largemouth bass only.
The July 15th, 2013 Super 30 Minnetonka Bass Tournament is in the books. The Marketing Architects Team of the Year standings have been updated accordingly.
Subs!!!!
If you know you are having a sub for any of the tournaments, PLEASE try to let me know ahead of time. Email or phone so I can get the scoreboard and paper-work correct. It is hard to correct the scoreboards after I have them done. THANKS
Weigh-in Locations
Finding weigh-in locations is never easy. You can all help by having lunch or dinner at the locations we use. I hear all the time that there is nothing in it for them to host a tournament. If you do go – take a minute and let them know that you fish tournaments and thank them for letting us use their location.
We could not get back into Bar Harbor on Gull this year because the manager said nobody even bought a beer. I know that is false because I ate there along with several other teams. For some reason they don't see us or remember that we try to support them. Thanks for your support in keeping the tournament locations open for all tournaments to use them.
PLEASE DO NOT BRING YOUR OWN BEER-POP-WATER TO THE WEIGH-IN
That is the fastest way to get us turned away the next time we want to come back.
Denny Super 30 new address
An important heads-up on the new postal address for Denny's Super 30 that you will see on the entry forms, effective immediately. The South Haven MN address has been replaced and checks are now sent to:
Denny's Super 30
5555 Dewey Hill Road #112
Edina, MN 55439
Wednesday Evening Bassin' – 2013
I have had several requests about the Wednesday Evening Bassin' so here it is. It will be very much the same as last year with a 25 boat limit of two (2) man teams with an entry fee of $50.00 per team. We need two anglers per boat to meet the DNR requirements. There will also be an optional big bass pot of $10 per boat with 100% pay back to the winners.
Super 30 rules apply – plus the following:
4 bass limit
No fishing from 3:30-4:30pm
Ease off will be from the Maxwell Bay access – 4:30pm
Tournament fishing from Ease-Off to about 10-15 minutes prior to sunset – check with the tournament director each week for the weigh-in time.
The dates are:
June – 12 – 19 – 26
July – 10 – 24 – 31
Aug – 14 – 28
Sept – 11
Spring will come ……Trust Me. Denny
Because of not having a mailing this year I need to make sure I have email addresses for everyone. If you did NOT receive an email from me today, 1/25/13 – I probably have your wrong email address or no address at all. Please email me at denny30@live.com so I will have your email for future news regarding the Super 30 tournaments.
Thanks, Denny
Life Jackets—–
It is required by my permits that anglers wear their life jackets when the big engine is running. If it is seen by me or reported to me that teams are not complying – I will take action and DQ those that do not comply. I know it can be hot out there but it is a requirement.
Do you want a discount on your tackle? Go to Joe's Sporting Goods – Located at Hwy 36 and Rice St. When you are checking out tell them you are in the Denny's Super 30 Club. You will get a 20% discount on tackle – best deal in town.
Email denny30@live.com or call 612-201-2406 with any comments, questions or suggestions.
For Sale:
Mercury Thruster Prop 25 pitch – includes hardware needed to use on a Yamaha or on a Mercury – Like New $300.00
Yamaha just rebuilt – like new – 25 pitch – $300.00
Call Denny – 612-201-2406